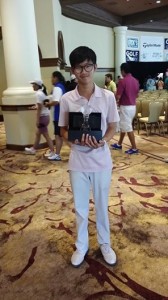 Congratulations to MUHS diploma student Varut Khachonkittisakul of Bangkok, Thailand. Varut placed 3rd in the 15-16 year old boys division at the World Masters of Junior Golf tournament recently held in Las Vegas, NV.
Varut's accomplishment is particularly impressive due to his rigorous schedule and unique challenges with long commutes, academics and late night practicing on the golf course.
While his schedule is challenging, Varut says that MU High School offers the flexibility that he needs to leverage his success in golf, "I have a time to rest, practice and also study."
As an MU High School student, Varut's academics are in English, which is not his native language.
Long term, Varut hopes to attend a U.S. University as an NCAA golfer, and then go into the professional golf league.
The MU High School staff and teachers wish him the best in his continued endeavors.
Check out Varut's Full Tournament Scorecard on the tournament website.
To learn more about Varut and his experiences balancing his hobby and academics, visit his profile in "Meet our Students."