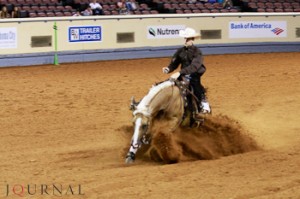 Congratulations to Jack Medows, a student of MU High School during the 2013-2014 school year, who earned the top two spots for reining at the American Quarter Horse Youth World Show.  As a youth reiner, Jack has shown that dedication and self discipline pay off in both the arena and classroom.
Jack has recently taken home the prize from the AQHYA World Championship Show, and he and his horses have placed in the top at other events since he started competing, including winning levels 1,2 and 3 NRBC earlier this year.
Despite his success, Jack appears to remain grounded. He frequently thanks all those who make it possible for him to pursue his dreams. Jacks dreams outside the arena include a professional career in engineering or veterinary medicine, meaning that school is important. Jack says that MU High School helped him maintain this academic success.
"MU High School was a great experience…My semester based courses had professors that were very helpful in explaining the material, answering questions, and keeping me on schedule. It allowed me the opportunity to pursue my dreams…."
To learn more about Jack and his perspective on balancing his passion and academic studies, see his page on Meet our Students.