It starts like most typical stories of youth: in 2010 Eugenie de Silva graduated from high school and prepared for college; but her story is anything but typical. Indeed, her experiences have been well publicized, including features in BBC News and the Pacific Standard.
At the age of 11, she was the youngest student to ever participate in MU High School's graduation ceremony.  Since that time she has continued with astounding success, earning multiple degrees through her early teens and once again making school history at the University of Leicester, at 15 being the youngest doctoral student ever enrollled.
Eugenie is a testament to what online learning can foster; allowing her to pursue her hobbies of writing, sports and world travel while also achieving scholastic success. Academically, she is interested in the intelligence field, her concentration at the university level.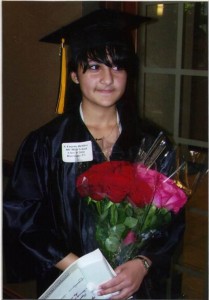 Taking classes online with MU High School cultivated the independence needed to complete her graduate studies online today.
She reflects that while with MU High School grew her independence, the rigor was not compromised, noting, "The standards at MU High School are extremely high and establish a firm academic basis."
While Eugenie is certainly destined for continued success, she reflects fondly on the foundation that her MU High School experiences provided:
I would definitely recommend MU High School to others without hesitation. I would make known that studying at MU High School provides students with the opportunity to learn how to become independent workers, while also having the support of dedicated educators.
MU High School is proud to have contributed to the success of Eugenie and many other talented students, and offer our congratulations on her most recent accomplishments.