1948 Northwestern, Iowa
My maternal grandmother, Norma, stands at the front of her classroom prepping for her lessons. In thirty minutes students will begin to stream in with pencils, books, and lunch pails in hand. She has twenty students ages 5 through 17 all in the same classroom.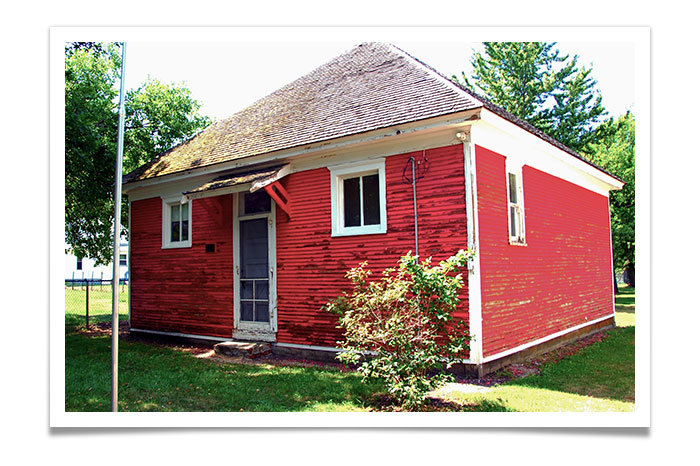 My grandmother, Norma, taught in this one-room schoolhouse.
1990 Miami Beach, Florida
It is a few minutes before the first bell. My paternal grandmother, Sophie, walks down the halls of a public high school. Students call out to her, "Hi Abulela." She is volunteering in a history class. We talk on the phone that night and she tells me, "The kids think I am an expert because I am so old. They assume I've lived through everything. You know, they might be right."
2005 Oakland, California
It is my first day teaching. My classroom library is stocked with multicultural picture books, the art table is ready with watercolor paints and glitter (because I don't know yet that glitter lives FOREVER). I have big expectations and a racing heart as the school bus pulls up. A tiny six-year-old hops off and takes my hand. "Hi, Teacher! I'm Cindy."
2015 Columbia, Missouri
It is my first week in this new position. I am on a video conference with a course designer in Texas. We are discussing current research on humanizing online education. After the call, I use Google Drive to share my new proposal for a scholarship program with a colleague. A moment later my email dings, there is a question about a Geometry quiz from one of our students in Vietnam.
2015 Espírito Santo, Brazil
My voice cracks when I mention Cindy to an auditorium full of international teachers.  A few people nod in understanding. I smile and begin explaining our co-teach model for this new partnership. This is the annual training for classroom teachers in a Brazilian high school program. The new school year begins in a few weeks. Working together we are able to offer co-taught, co-designed, co-graded classes. My team is jittery with the learning possibilities. We can't wait to meet the students.
Reflections on the dawn of 2016
The world has changed dramatically since Norma taught in the one-room schoolhouse just east of our family farm. The world has shifted significantly since Sophie sat with teenagers telling them about Dr. King's March on Washington. However, and this is the kicker, the world has also changed since I started teaching in that sunny classroom in 2005.
We still have a lot to figure out in education. There are critical questions for us to consider whether we are teaching in traditional classrooms, online classrooms, multi-grade classrooms, or blended classrooms. However, these are the same questions Norma considered back in 1948. They include: How do we hold all students to high expectations? How do we support diverse classes of students who learn at different levels, paces, and come to us with different prior backgrounds? How do we make learning relevant to the world our students live in? These are questions that have always mattered in education. The questions haven't changed. The answers have. The ways our students experience and interact with the world have changed.
As the Director of Academic Affairs for Mizzou K-12, I am humbled by the global capacity for connectedness. I recognize that the classrooms I support contain elements my grandmother Norma could have never imagined. Yet, all of us in education are still that proverbial teacher at the board. The board might be a touch screen, but we are still setting our classrooms with hope, expectation, and the nervous anticipation of a new semester in learning.