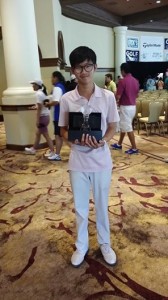 MU High School student Varut Khachonkittisakul, from Bangkok, Thailand, aims high. After graduating from MU High School, he hopes to attend a U.S. college and play NCAA golf and then in the PGA.
Varut achieved success in the Summer of 2014 by placing 3rd in the 15-16 year old boys division at the 2014 World Masters of Junior Golf tournament held in Las Vegas, NV.
Like many MU High School students, Varut finds that the flexible nature of coursework helps him balance his rigorous schedule. His daily routine is filled with practice and academics. During the long traffic commute in Bangkok, he finds time to eat and rest. Varut says that one of the things he likes the most about MU High School is the freedom it allows.
Varut says he chose MUHS because it is accredited and part of the University of Missouri. Attending a quality U.S. based high school is an important step to mastering English; an important skill for his goal to be admitted to a U.S. University. Fortunately for Varut, his parents have always encouraged him to focus on his English.  They are an inspiring team for many other students.
For each of these challenges, Varut takes a positive approach and recognizes that self discipline is key it meeting his goals, reminding us all, "Daily responsibility is a key to success."