Leadership through English Advancement & Development (LEAD)
Spend this summer at the University of Missouri—a top-ranked U.S. public university and prestigious member of the Association of American Universities.
Program
Derived from our flagship Leadership through English Advancement & Development (LEAD) Program for university students, LEAD High School is designed specifically for the needs of high school students. For this pilot year, only currently enrolled students with Mizzou K–12 Online will be admitted.
For English advancement, the students will gain academically and socially from engaging in "real life" intercultural communication situations in an environment where they will feel safe. They are encouraged to build a good rapport and relationship with teachers, peers, and mentors.
For personal and leadership development, the program strives to bring out the best qualities of each student in order for them to learn and push themselves to succeed by focusing in key areas expressed through our educational model. While students will get a jumpstart on their academic and transformative life experience, the program offers a chance for students to meet and form long-lasting friendships with vibrant, highly motivated peers from all over the United States and around the world.
For academic growth, part of the Mizzou K–12 Online course Public Speaking will be guided during your stay.
Host
The Missouri International Training Institute and Mizzou K–12 Online—University of Missouri, USA
Program Period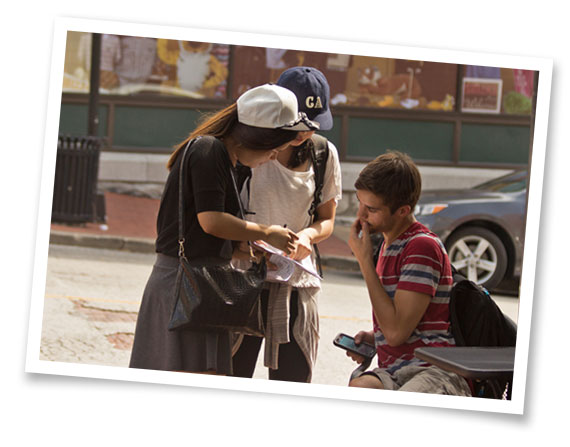 July 5–July 25, 2015 (3 weeks)
Program Cost
$3,500 per participant
This includes
Administrative support and instructional materials
Structured workshops and seminars
Accommodations (room and meals)
Transportation, field trips, cultural excursions, and other extracurricular activities
Health insurance
Visa
Because the primary reason for coming to the United States is to engage in the High School Leadership Program and not as a full-time enrolled student at the University, the B-2 visa is the appropriate one for you.
Learn more about what is required to obtain a B-2 visa. Information on the U.S. Department of State's policy on short periods of recreational study is available at the following links:
Residential & Dining Experience
For the University life experience, High School LEADers will be staying in a University of Missouri Residence Hall. Typically these are two persons living in one room with a community bathroom and shower, with community laundry facilities and a furnished common area.
At Mizzou, we call our buildings "residence halls" rather than "dorms." We do this because each building's dynamic community contributes to the student's overall learning experience. In a residence hall environment, students share mutual obligations and learn respect for others. Our students do more than just sleep here. They LIVE here.
Learn more about our on-campus housing.
Our LEADers will be having their meals at campus dining halls. Having meals on campus offers a variety of quality choices to fit any schedule and please all palates. Our award-wining staff provides top-notch service across campus in inviting facilities. Campus Dining Services provides meals in many unique settings. All-you-care-to-eat dining locations include fresh salad bars, delicious entrees, deli sandwiches, and much more. Across campus, you will find numerous coffee houses, convenience stores, and retail cafes.
Learn more about our Campus Dining.
Contact Us
Missouri International Training Institute
Ta Boonseng, Coordinator
N49 Memorial Union
Columbia, MO 65211
U.S.A.
+1 573 882-6902
Mizzou K–12 Online
Tanya Haeussler, Coordinator
315 Clark Hall
Columbia, MO 65211
U.S.A.
+1 573 882-1458
Objective
The objective of the LEAD High School program is to provide the "LEADers" with a transformative experience in order to learn more about themselves and their interests. We use a proven unique learning model that allows students to participate in a process that pushes them through key focus areas and strives for long-term, successful results. The model focuses on four main areas:
Self-Discovery & Career Exploration
Research & Information Literacy
Professional Communication & Public Speaking
Global Leadership Development

We have also combined the University of Missouri Values within our program goals to continue our duty to acquire, create, transmit, and preserve knowledge and promote understanding. We promote successful leadership by encouraging students, faculty, and staff to live by these four core values:
Respect
Responsibility
Discovery
Excellence
Components of a LEADer
Academic Seminar series
During the program, LEADers will participate in various workshops and seminars aimed to increase their confidence, English speaking ability, and understanding of American culture. The seminar series is designed to be interactive, challenging, and fun both inside and outside classroom settings. The experience focuses on storytelling, presentations, group discussions, interview projects, and public speaking. Our aim is to create a safe and authentic environment for language advancement and leadership development. These topics include:
Self-Discovery & Career Exploration

Throughout the program, the LEADers will be given opportunities to interact with university students, staff, and faculty to learn about various fields of study and majors offered at the university. They will also be visiting a variety of American businesses and social enterprises for a first-hand career experience. Combining this exposure with guided interactive activities, they will learn how to set goals and accomplish them.

Research & Information Literacy

Participants will be assigned unique research projects where they will be given the opportunity to obtain new and useful ways of researching, along with a new dynamic approach to synthesizing information and developing a final research project for presentation.

Professional Communication & Public Speaking

Classes are designed to give students a communication experience that differs from what they are used to in their own country. They will have a safe and authentic venue in which to take on the role of storytellers, discussion facilitators, and professional presenters. These engaging and interactive activities are designed to increase speaking confidence and improve professional communication skills. We use these academic seminars to reflect and expand upon our four key areas of focus and create a learning process that focuses on continuing growth and success through leadership and personal development.
American Cultural Experiences
From visiting popular tourist destinations to engaging in local cultural events, experiencing American culture first hand is an important aspect of the LEAD program. These experiences can be as simple as stargazing at the campus observatory or taking a day trip to Kansas City or St. Louis, or as elaborate as an overnight camp with local high school students. The activities are designed for students to gain a deeper understanding of American culture and people in a short period of time. Examples of trips include, but are not limited to: visiting famous destinations such as the Gateway Arch, the St. Louis Zoo, or the Nelson-Atkins Art Museum, touring a dairy farm, attending a sporting event such as a university game, or taking part in a fun night of ice skating at the Crown Center. LEAD participants will also have the opportunity to participate in various community events and activities.

American High School and Collegiate Ambassadors
Serving both as a mentor and a role model, Collegiate Ambassadors form meaningful relationships with program participants. These American college students come from a variety of backgrounds and are integrated into the program in a variety of ways. From attending scheduled field trips and participating in occasional classes, to spending time with program participants in unofficial capacities like playing basketball at the Recreation Center, Ambassadors serve as an essential part for making LEAD students feel at home here at the University of Missouri. The participants will also have an opportunity to engage with their potential peers at local high school exchanges and learn about each other. American ambassadors are what truly bring the program together, making LEAD a valuable experience.
Professional Business Practices
To showcase potential career paths, LEAD participants will engage in many professional site visits to enterprises including for-profit, nonprofit, and government organizations. They will participate in hands-on volunteering experiences and interact with professionals who have experience in these organizations and are educated in various fields like science, technology, engineering, education, medicine, and business. The participants will not only have the opportunity to see but also follow up and ask questions based on their individual interests.
Public Speaking Course Description
LEADers will have the opportunity to participate in Mizzou K–12 Online's Public Speaking course. The course description is provided below.
Course Description
The ability to communicate using formalized systems of language—both verbal and non-verbal—is important in all areas of life. The most successful and powerful people over the centuries have mastered the ability to communicate effectively. In fact, the skill of speaking is so important that it has been formally taught for thousands of years.
The ironic feature of public speaking is that while we recognize that it is an important skill to have, many of us do not like or want to give speeches. The good news about public speaking is that although it may not be on the top of the list of our favorite activities, anyone can learn to give effective presentations.
What is important is that the audience understands you and remembers what you have to say. By learning and using the techniques provided in this course, you will discover how to create engaging speeches and present them.