This post is adapted from an article on my educational leadership blog on LinkedIn.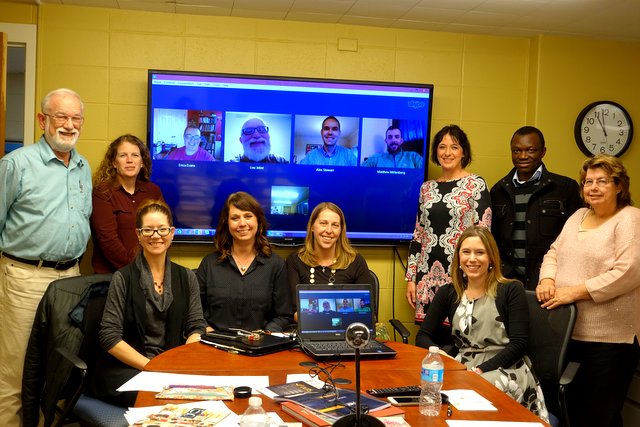 One of my favorite professors in my doc program (Ty Douglas, ELPA) used to give us an hour each class to Skype-a-Scholar. This gave us the opportunity to dialogue with the authors of the articles and books we were reading. We spoke with educational administrators, researchers, and great thinkers across time zones and countries. Instead of wondering what an author meant by a particular argument, we could ask them directly.As the Director of Academic Affairs at Mizzou Academy, I am borrowing some thinking from Dr. Douglas' Skype-a-Scholar practice.
What if you weren't limited to the resources you had in your physical classroom, your school, or institution? What if educational leaders could create broader, or even global learning communities?
What if has become a springboard for the way we are designing instructional teams at Mizzou Academy. What if you could create instructional teams working from multiple locations simultaneously? What if you could work with teachers from California, Colorado, and Alaska? What if you could ask retired teachers, new educational scholars, and dynamic classroom instructors all to join your team? What if you could re-imagine teacher leadership roles for your current instructional faculty? What if you could put this team to work CoTeachingSM in an international educational partnership with high schools six thousand miles away? This is, of course, not hypothetical. This is what we are doing at Mizzou Academy.
The power of what if, coupled with the potential of technology, is letting us dream bigger in education.
A couple weeks ago the magnitude of this educational daydreaming became real to us. Three administrators and thirteen of the smartest teachers I know spent the afternoon learning and planning together. Four members of our team had to Skype in, while others drove hours to be with us. I asked our teaching team to share their hopes and fears. We shared big hopes. One of our teacher leaders recorded these hopes in purple marker on a whiteboard. That whiteboard became our tether in the unsettling frontier of trying something new. Teachers shared that they hoped to shift the paradigm of distance education; they wanted to fulfill student dreams; they hoped to expand the horizons of learning; they hoped we were discovering a new frontier in student support; they hoped the relationships we built with students over an online learning management system would be rich. One administrator said he hoped we were changing the world.
I wish that more folks could have heard this conversation, particularly those who question the viability of online education. There is something deeply persuasive about hearing the honest, worried voices of educators who desperately want to do right by students, and who know that "doing right" in the twenty-first century requires a different toolkit than that of our grandparents. Our faculty and staff at Mizzou Academy are dreaming big new dreams in education. Through Skype, emails, text messages, phone calls, and long drives we are leaning on each other for support and collaboration along the way. That's how great teams are made. In education (and life) we know that few things matter more than community.
What if  we could start building  bridges to connect students and teachers across a new global learning community?