Mizzou Academy is unique. It is the only fully online high school that is within a nationally ranked College of Education, which is consistently ranked among the top education colleges in the U.S. The Mizzou Academy school and the College of Education are on the beautiful MU Campus, and instruction is founded on cutting-edge research at this world-class university.
University Collaboration in Course Development
Researchers and professionals who are contributing to the latest research in their fields of study are consulted for Mizzou Academy course development. Frequently, MU Faculty take part in the authorship and teaching of the courses.
About the University of Missouri
Based on quality of teaching, research, and scholarship, MU is one of only 34 public U.S. universities — and one of only two institutions in Missouri — invited to membership in the prestigious Association of American Universities (AAU). To learn more about MU, we invite you to explore the University's Pride Points.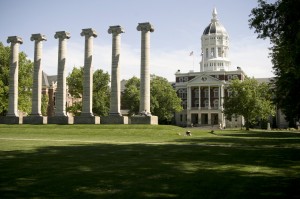 Jesse Hall on the MU Campus